Online service tracking for your NHS Chapter

● Eliminate Paper Forms
● Approve/Deny Volunteer Hours
● Generate Real-Time Reports
● Keep Track of Students' Requirements
● Post NHS-specific volunteer opportunities

NHS Student Features

● Easily log NHS volunteer hours
● Complete NHS Required Service Hours
● Sign up for NHS-specific volunteer opportunities
● Order Official Service Transcripts™ for college & scholarship applications
---
Simplify your volunteer hour tracking process by going digital! See how x2VOL works:
---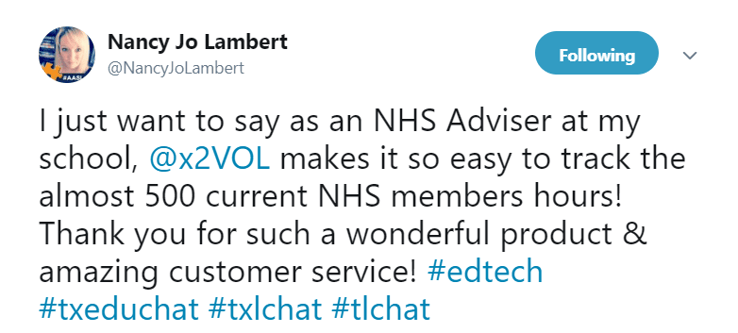 "I would say it (x2VOL) has revolutionized how we run the program," Schroeder says.
- Jeff Schroeder, Westside High School - Houston ISD
"x2VOL gets rid of the difficult paper tracking and hours logging we've had to do in the past and replaces it with a streamlined, user-friendly system for everyone. It consolidates service opportunities, sign-ups, bulletin board announcements, and hour tracking all into one place. It's an amazing program that has changed Hunt's NJHS for the better!"
- Cathy Adkins, NJHS Faculty Advisor - Frisco ISD
Ready to Get Started with x2VOL? Contact Us Below!