| | | | |
| --- | --- | --- | --- |
| ESTABLISH REQUIREMENTS | TRACK HOURS | CAPTURE STUDENT REFLECTIONS | GENERATE REPORTS |
| Work with your x2VOL Account Manager to set up your school or program's requirements. | As students work or serve they track hours and experiences toward goals and requirements | Students can write and attach a reflection on what they learned to each experience. | Generate reports on student progress toward goals and requirements. |
---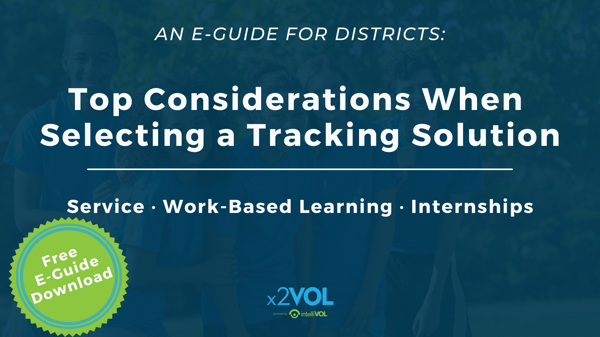 Top Considerations When Selecting a District Solution?
Service · Work-Based Learning · Internships
An E-Guide for Districts
---

x2VOL Demo
---

Making a Difference for Your Students
With x2VOL students will be able to:
| | | |
| --- | --- | --- |
| TRACK AND MANAGE THEIR SERVICE EXPERIENCES EASILY ONLINE | DEVELOP SOCIALLY AND EMOTIONALLY THROUGH SERVICE BY WRITING MEANINGFUL REFLECTIONS | LEVERAGE THEIR SERVICE EXPERIENCES ON COLLEGE, SCHOLARSHIP, AND JOB APPLICATIONS |
How does x2VOL work with other districts?
Download our district case study!
---
x2VOL is the leading service tracking platform in K-12.
It also tracks:

---

Hear from other x2VOL districts about how taking service tracking online has made a difference for their students!


---



x2VOL is the leading service tracking and reporting platform in K12 education. Students and administrators can easily manage service programs as well as WBL, CTE, and internship programs.


Service Leader Features:

Eliminate paper forms and archaic tracking processes

Establish service requirements

View reports on your students' progress toward goals

Approve, deny, and partially approve hours

Post service opportunities for students and invite local nonprofits to

post opportunities

Customizable reflection prompt for students

Student Volunteer Features:

Track hours toward service requirements
View progress toward your service goals
Write a reflection for each service hour entry
Get hours verified by 3rd parties
Order and send an Official Service Transcript™ to college admissions officers
Track hours on the go via the mobile app

District Leader Features:

Implementation available based on the district's strategic goals
Benefit from a dedicated district account manager year-round and unlimited access to our support team
Customized Webinars for Professional Development
Access to specialized reports to see student service and impact
Tiered account access for multiple admins
Secure File Transfer Protocol (SFTP) access gives districts full control of student data transfer


---

Want to Learn More?
Provide your information and our team will reach out to you.