Simplify your volunteer hour tracking process by going digital.
NHS Sponsor Features

● Eliminate Paper Forms
● Approve/Deny Volunteer Hours
● Generate Real-Time Reports
● Keep Track of Students' Requirements
● Post NHS-specific volunteer opportunities
NHS Student Features
● Easily log NHS volunteer hours
● Complete NHS Required Service Hours
● Sign up for NHS-specific volunteer opportunities
● Order Official Service Transcripts™ for college & scholarship applications
---
Don't take it from us. Hear from customers that use x2VOL to track National Honor Society service hours.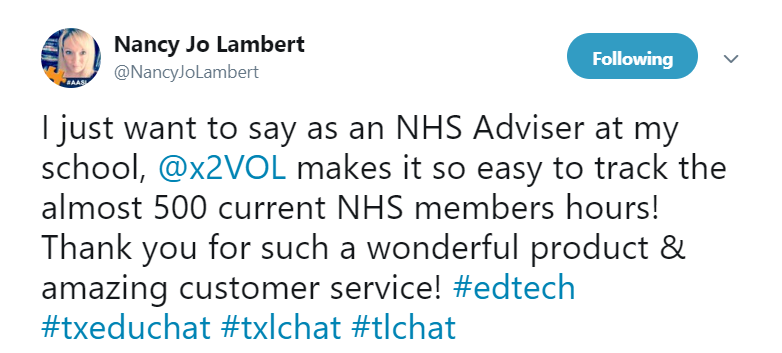 "I would say it (x2VOL) has revolutionized how we run the program," Schroeder says.
- Jeff Schroeder, Westside High School - Houston ISD
"x2VOL gets rid of the difficult paper tracking and hours logging we've had to do in the past and replaces it with a streamlined, user-friendly system for everyone. It consolidates service opportunities, sign-ups, bulletin board announcements, and hour tracking all into one place. It's an amazing program that has changed Hunt's NJHS for the better!"
- Cathy Adkins, NJHS Faculty Advisor - Frisco ISD