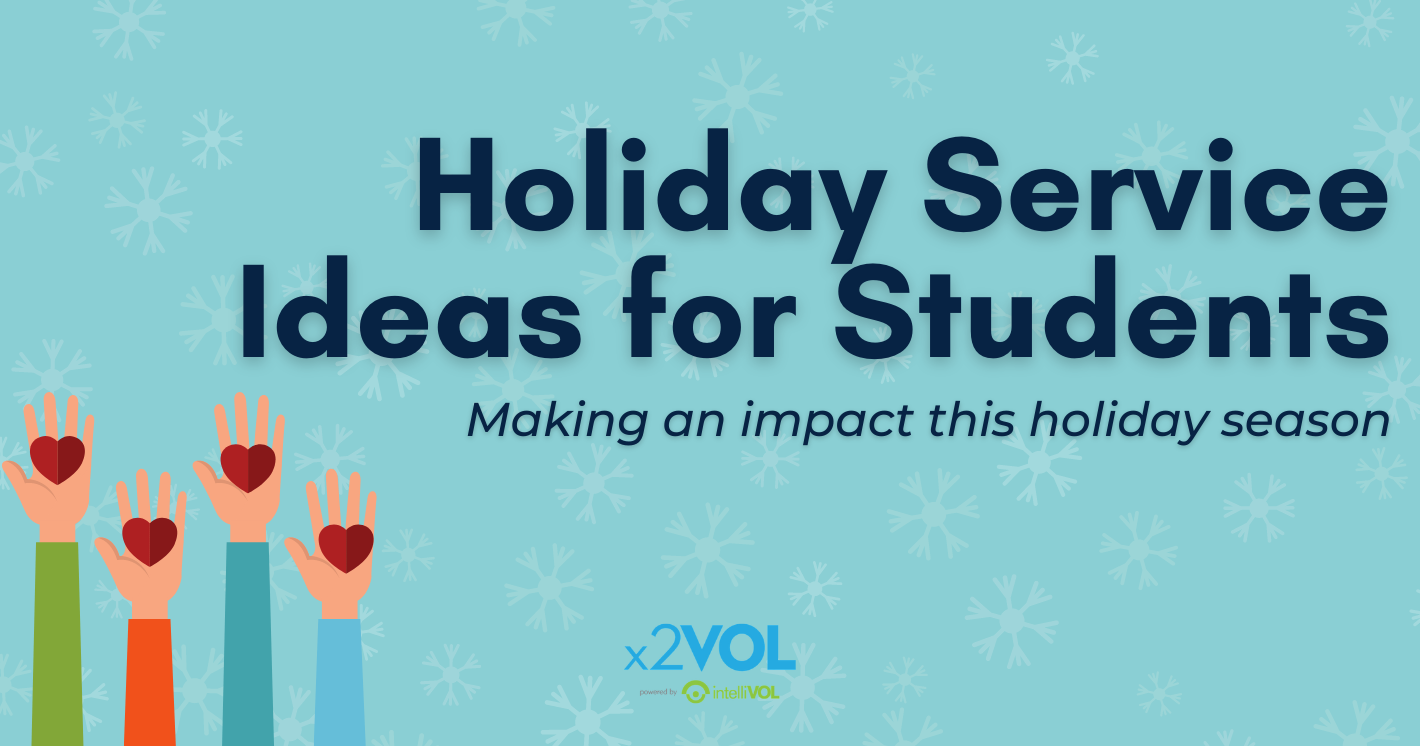 While students are busy serving in their communities all year long, the holidays months are a great opportunity for students to give of their time and effort to benefit others.
Whether your students are out in the world or are serving from home there are a number of ways they can serve during the holidays that have a big impact on the community:
Providing meals for a family in need in their community
This can be a project done with a group of students or a service opportunity for the whole family to be involved.
Throw a holiday party with a local after school program for kids in the community
Students can spread joy and be positive role models to younger children in their communities.
Collect and donate personal hygiene items for a women's shelter or homeless shelter
Students are able to understand the needs of various individuals in their communities and can impact their day-to-day lives by helping provide basic necessities. This opportunity can help students understand not to take things for granted - even the small things.
Host a toy drive to benefit children in the foster care system
Students can gain leadership skills and benefit other children by organizing this drive, gathering donations, and coordinating drop off.
Volunteer to organize donations at a food bank
Food banks receive a lot of donations during the holidays. Students can volunteer their time helping organize donations benefitting local nonprofits.
Serve at local nursing homes or retirement centers
Because of COVID-19, some people may not be able to travel and see their loved ones during the holidays. Students can provide entertainment, comfort, and connection to elderly individuals during the holiday season and gain wisdom and knowledge from their elders.
Write letters of encouragement and thanks to civil servants who may not be home for the holidays such as the military, first responders, and medical staff
By doing this students are able to step out of their own bubble and put themselves in someone else's shoes, which encourages a widened worldview and empathy.
Random acts of kindness
Students can utilize their unique skills and interests to help others through small acts to spread kindness and joy. Whether it's baking cookies for a neighbor or teaching an elderly community member how to use a computer or social media, small acts can make a huge difference.
Hyper-local nonprofits
There are a lot of unique nonprofits dedicated to meeting the needs directly in your students' communities. Encourage to reach out to these nonprofits and ask how they can serve those particular groups during the holiday season.

Virtual Service Organizations




If students are serving virtually this year, there are national organizations that offer opportunities to assist others virtually during the holidays:
Service doesn't stop at the holidays
Service during the holiday season is a wonderful thing, but it doesn't stop there! Our world goes around when we are looking for ways to meet needs and help others in the community. Service has never been more important - so, encourage students to continue this spirit of serving all year. Do your students need more service ideas or ways to use their skills to benefit others? We have blog posts here and here chock-full of service ideas for your students!
Are you students growing from their service experiences? Student growth and development happen when students are able to reflect on their volunteerism - what did they learn from their experience? What were they surprised by? How did it shift their thoughts or opinions?
Are your students recording their experiences and reflections?
Empower your students with their service history and make managing a service program easier on you! x2VOL makes it easy for students to log their service hours, write reflections, and track their progress. While administrators can easily manage service requirements and goals and generate reports on student progress. See how x2VOL works!