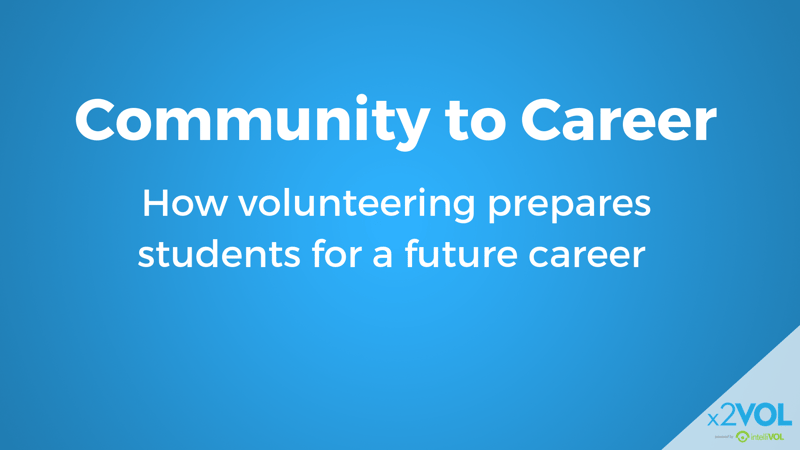 When students participate in community service it expands their world-view and opens them up to ideas and opportunities they might not have experienced otherwise. They learn about the importance of helping others and have a chance to discover an area of focus for a potential future career.
You might be surprised to the things students get out of community service that can inspire them to go into a particular field:
They meet people and build relationships with leaders who can be references for college applications and jobs
While volunteering in different types of organizations, they are exposed to industries they might not have crossed paths with before
Because of their different service experiences, they are able to build their resume with diverse experiences
They connect with those in careers they are interested in and receive advice on steps to achieve goals
While being challenged in doing service, students can discover valuable skills and talents they might not have otherwise known about themselves.
Students can partake in all sorts of unique service opportunities that benefit their community and provide opportunities for their future such as:
Volunteering to tutor other students
Serving in a children's hospital for kids there for treatment
Volunteering in an administration role at nonprofits in the community
Offering to volunteer to do graphic design or website design for local nonprofits
These and so many other types of service opportunities open up doors for students exposing them to new and exciting things that can benefit their future.
Service leaders, encourage your students to make the most out of the service they are doing in their communities. Encourage them to seek out diverse opportunities and keep an open mind while experiencing different things.
Students, remember your service is valuable to your community, but it's also valuable to you! Stepping outside of your box to serve an an organization or group of people you're not familiar with, may just allow you to discover new things about yourself.