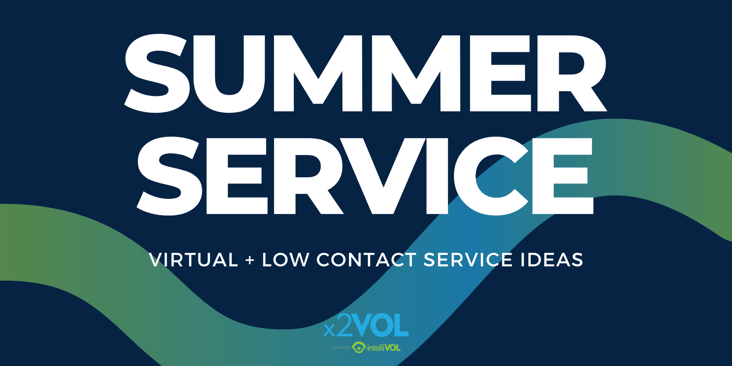 This past semester presented itself with a plethora of new challenges including discovering new ways to volunteer. Because of the coronavirus pandemic, participating in community service may have seemed like an impossible feat. However, students across the country, found unique ways to continue to serve while remaining, primarily, at home.
While a lot of service opportunities have changed or been modified due to COVID-19, there are still needs ready to be met, there are still opportunities to serve others and volunteer in your community. Summer is a great time to get involved and use the extra hours in your day to serve others!
Helpful Tip
Reach out to local nonprofits in your area and ask what needs they have during this time. Ask them things such as:
Do you have virtual volunteering opportunities?

What needs does your organization have right now that I can assist with in a virtual or in a socially distanced manner?

How have the individuals or communities you benefit been impacted by COVID-19 and what help do they need?
No one knows the needs of nonprofits, better than the nonprofits themselves. So don't be afraid to contact them directly and ask how you can be of service.


Virtual or Socially Distant Service Ideas to do this Summer
Students using x2VOL have participated in a wide variety of service opportunities during quarantine. As we all continue to be cautious, volunteering may look a little different, but it has never been more important. Here are some virtual or low contact service opportunities to do this summer:
Teach music lessons online

Help clean up after a local natural disaster

Write letters to seniors, service men and women, and healthcare workers

Make meals and distribute them to homeless individuals

Lawn care/mowing the lawn for disabled, elderly neighbor, or neighbor in need

Tutoring siblings or younger students who are participating in summer school

Donate to or assist at local food bank distributing meals to those impacted by COVID-19

Bringing meals to grandparents or other elderly individuals at your local nursing or retirement home when allowed with appropriate social distancing

Collect and recycle plastic bottles

Teach technology to elderly individuals so they can connect with family and friends in a no contact manner

Design an online class on a topic you are interested in and host it online

Host a Zoom workout class in a exercise or sport you are interested in

Create no sew blankets or toys from recycled materials and donate them to local animal shelters

Support your family by helping out with special projects around the house
Organizations Offering Virtual Service Opportunities
There are large national organizations that are offering virtual service opportunities during COVID-19:
Create Your Own Service Project
Have you noticed a need in your community or are passionate about a particular cause? Think about create your own service project using your skills. Contact the teacher, administrator, or counselor overseeing service to get approval to ensure it counts toward your service goals.
Some students have used 3D printers to create PPE supplies during COVID-19. Other students have organized online benefit concerts to benefit organizations in their area. The sky is the limit.
How to Track Virtual Service
While so much of our lives are going online, service tracking is no different. Long gone are the days of students turning in paper forms with their service hours. x2VOL is the leading service tracking platform in K-12 education. With x2VOL students can track and reflect on their service experiences, get their hours verified by the service contact, get their hours approved by their school, see progress toward their service goals, order Official Service Transcripts™, and more. By taking service tracking online, school administrators have more control and access to student service data than ever before. Watch a demo of x2VOL and see how you can take service tracking completely online.
If you're a student and your school doesn't have x2VOL, you can also get an x2VOL Individual Member account, x2VOL+. With x2VOL+ you will be able to track service, write reflections, get hours verified, order Official Service Transcripts™, and more. Learn more about x2VOL+ below!