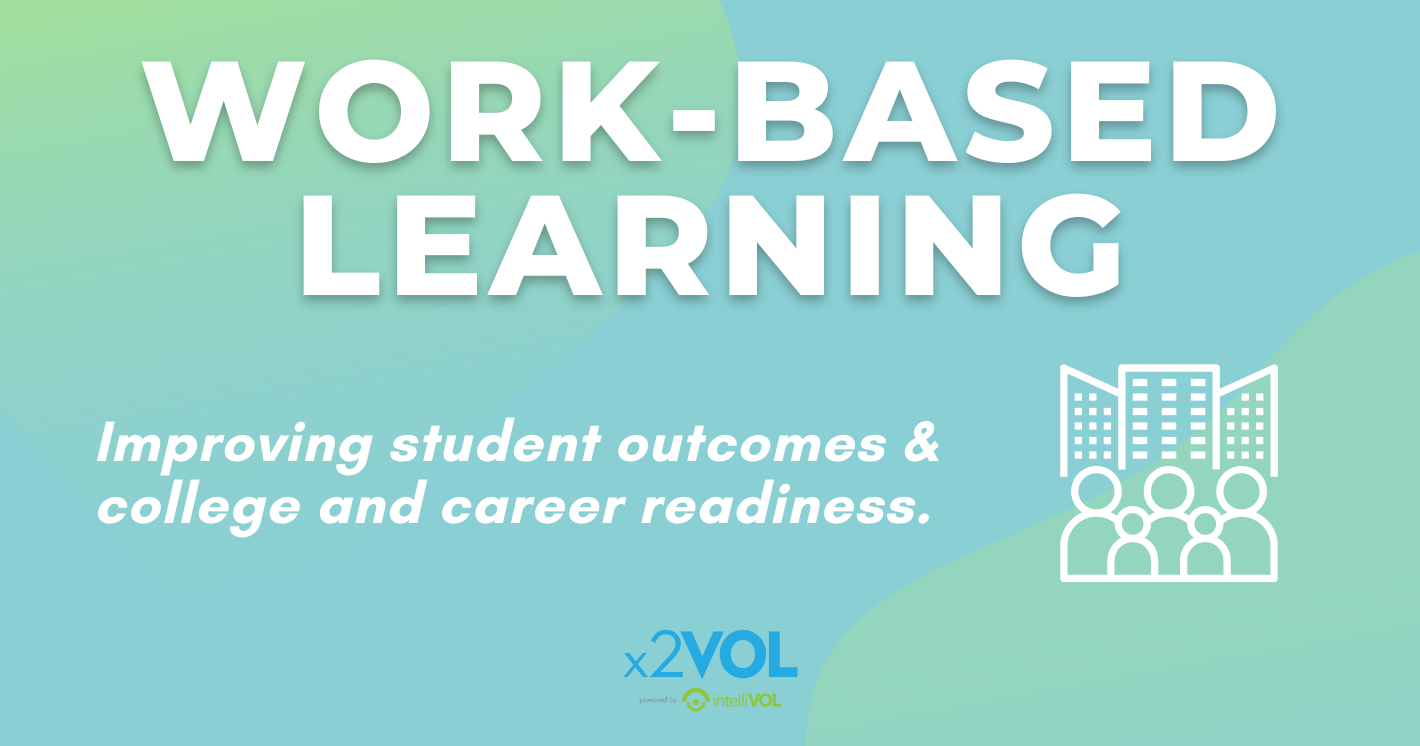 Work-based learning, internships, Co-Ops, and other work-based school programs are becoming extremely popular optional programs for students to take advantage of. Along with participating in community service, being in a work-based learning or internship program is an excellent learning opportunity and provides diverse opportunities outside of the classroom that improve student outcomes.
The Increasing Popularity of Work-Based Programs
While work-based programs are rarely required they are becoming increasingly encouraged within schools. As many students seek out work and internships for varying reasons, schools and districts offer class credit and additional recognition. States even offer incentives for students.
For example, in the state of Florida student work hours are now accepted as part of the Bright Futures scholarship program. Historically, the Bright Futures scholarship has been based on students participating in community service. However, Governor DeSantis recently announced that work hours can now count toward the requirement for the Bright Futures Scholarship that many Florida students take advantage of each year.
In Arizona, schools across the state saw increased graduation rates amongst students that were involved in a CTE work program. Career and Technical Education programs are an excellent option, especially for students exploring various trade careers. These programs are increasing in popularity and support improved student outcomes. In fact, one Arizona high school reports that 45% of their student body is enrolled in a CTE course.
College and Career Readiness
Schools and districts often structure their programs a little bit differently, however, participating in work, internships, career and technical education, CoOp, work study, or similar programs offer students opportunities to set them up for future success.
Whether a student chooses to pursue a four-year university after high school, attend a trade school, or move straight into the workforce, there are valuable skills a student needs to be successful. These skills are developed best when a student is actually utilizing and building those skills regularly - this can be done through work-based learning programs. Students gain real-world knowledge and skills that prepare them early on for what life after high school will look like.
Why Students Should Participate in WBL or Service
Community service and Work-based learning/internship programs often go hand in hand and are sometimes under the same umbrella in many schools and districts. While these programs or classes can have different criteria, they both have one thing in common: improved student outcomes.
In a work-based learning program students will:
Learn leadership skills and gain personal responsibility and accountability
Gain deeper knowledge around finances and the value of hard work
Learn basic skills that will serve them in future jobs
Explore various career paths that might have interest in


In school community service or service learning programs students will:
See the direct personal impact of service to others
Discover new skills and talents through diverse service experiences
Learn vital leadership and communication skills
Widen their world-view and become more well rounded individuals
Students emerge from these programs with a greater sense of self, valuable skills and tools, and experiences they can leverage on college, scholarship, and job applications.
While these programs are important offerings for students, managing the student data, hours, progress, etc. can be overwhelming and cumbersome. It's important for students to have an easy way to log their service and work experience, see their progress toward goals, and have a location to write reflections about their experiences so they can leverage them in the future.
It's also necessary for educators to have a streamlined way of managing these programs without adding to their daily burdens and tasks. An online tracking and reporting solution makes this easier on the student and educator.
Districts that implement work-based learning programs also have a need to report on student success. Through reports and data, district leaders are able to see where students are at, how these programs benefit students, see where to make adjustments, and report back to stakeholders.
x2VOL comes in to meet these needs at the student, educator, and district level to support all parties in executing a successful work-based learning program.
Hear from three school districts on how they've implemented successful service and WBL programs and how they use x2VOL to support the tracking and reporting of these programs.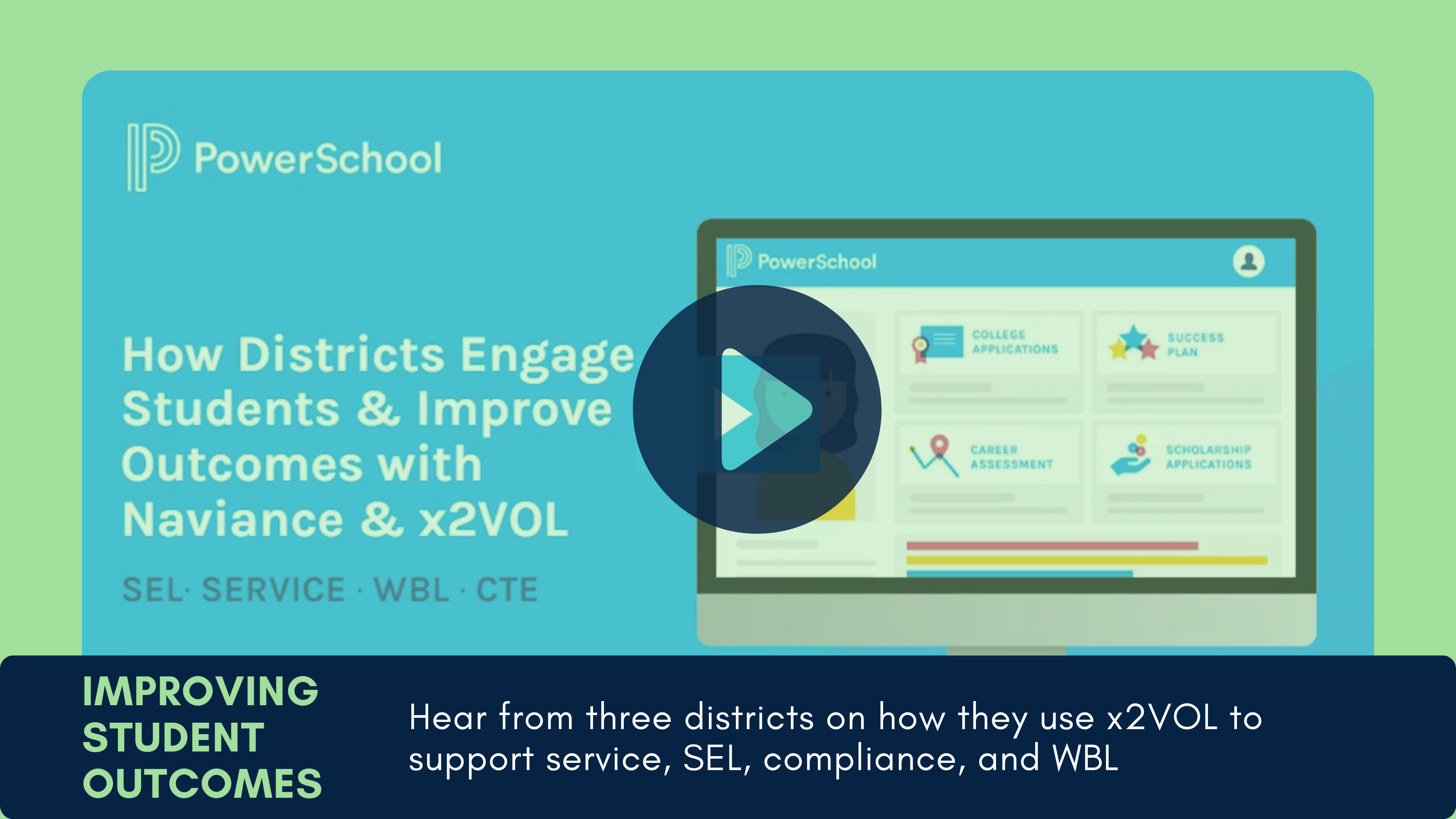 If you'd like to learn more about x2VOL and how we can support you and your students you can watch our demo here or download our free e-guide - Supporting College & Career Readiness: The simple way to manage service, work-based learning, internships and more.