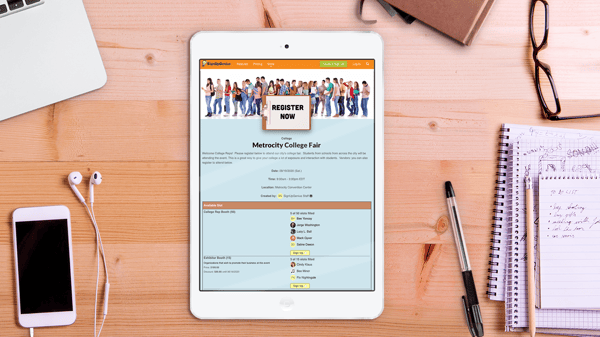 Guest post courtesy of SignUpGenius
Preparing for college can feel like a daunting task for both students and parents. No matter where you are in the timeline — from starting your first college tour list to packing for the first semester move — we have tips that will help simplify the process.
Getting Started: College Tours + Talking to College Reps
Make the most of your college campus tour by doing more than just following the guide around. Here are a few extra steps you can take:
Find a student at the university (ask around to find an old family friend, cousin or recommended mutual friend) who can have a meal with you between sessions and answer your questions about the school. They will be able to give you a personal view!
Sit in on a class. One class does not an entire college make, but it'll give you an idea of typical classwork and the environment of the college.
Explore the town. Many universities are near college towns, so get off campus and walk around a bit. You'll probably hang out on weekends or even get a job in town once you start college.
It's important to talk to representatives from schools you're interested in to see if their institution is a good fit for you. You've got to be smart with those application fees! Ask a variety of questions — related to their admissions, academics, campus life, financial aid and alumni:
What scholarships are available?
How do students get around campus?
What do students like to do in their spare time?
What career services are offered?
What types of jobs do people get with my major?
The Application Process: Essay Prompts + Interview Questions
As you narrow down your list of schools, it's time to start thinking about those applications. College admissions essays are your chance to give the university an idea of your voice and the value you will bring to their campus. Here's an example of a prompt and how to answer it:
Tell us about a time where you challenged your pre-existing worldview. Why? Would you do this again?
Choose a time that you were able to listen to perspectives different from yours with respect and maturity. Demonstrate that you are able to learn from others. This can give colleges an idea of both your ability to engage in complex ideological issues and your character and humility.

After the essays come the interviews. Think of an interview more as an interesting conversation rather than a series of probing questions. They can often turn out to be fun! Do your research and prepare answers to some common interview questions so you walk in confident:
What have you read recently that has impacted or changed how you saw the world?
What makes you different from other students?
What is an area of weakness for you in school and how have you overcome it?
After the Acceptance Letter: Roommate Searching + Packing Ideas
You've made it through and are headed to college. Congrats! Next step: finding the right roommate. Remember to ask any potential roomie specific questions like these:
Do you like to keep your space clean?
Do you plan on studying in the room or on campus?
Are you planning on going out/partying in college?
Are you an introvert or an extrovert?
As you start preparing for the move to campus, use a college packing list to check everything off. A few staples you'll need include good walking shoes, bedding, a laundry basket and shower shoes.
Connecting on Campus: First Semester Tips + Getting to Know People
So, you're on campus and are now a college-level scholar. The transition to college life may be the most exciting thing in the world to you or it can feel really tough and lonely. Or a mix of both! Those feelings are completely normal. Here are some survival tips for your first year on campus:
It can be hard to focus on one task in college. Finishing a paper seems extra hard when you'd much rather head to the frozen yogurt place. Silence your phone, put in earbuds and say: "After I have typed 300 words, I will go hang out with my hall mates for 30 minutes."
Be aware that depression is incredibly common on college campuses. If you or a friend stops eating, stops going to class or shows any serious emotional distress, talk to an RA, professor or counselor. Your campus is filled with people who want to help!
People on your hall may be your first friends in college. Get to know them and find some who share your interests. Ask a few fun "getting to know you" questions to get beyond the typical "What's your major?" and "Where are you from?"
Bonus tip for parents: send your newly minted college student a creative care package! Ideas like these will help ease the transition and remind them how loved they are:
Homemade slices of favorite cake, double wrapped for freshness
Handmade "miss-you" card from a sibling
Cold medicine, lip balm, hand lotion
There is no formula to perfectly prepare for college. However, the most successful college students know that they won't ace college on their own! Set yourself up for a fun, formative season of growth with these tips — and with a strong support system of family, teachers, mentors and friends.


About SignUpGenius
SignUpGenius simplifies the process of coordinating events and people by providing online sign ups for nonprofits, schools, sports, churches, families, colleges, businesses and organizations. By enabling up to 14 million unique visitors per month to sign up for tasks online, SignUpGenius has done away with the need for paper sign ups, "reply-all" emails and phone trees.