Service goals are at the heart of x2VOL. Schools across the nation have different service programs and they use x2VOL to set up a goal structure that works well for their students. We looked at 50 of our most active x2VOL schools, both public and private, and identified some of the recurring trends in goal structures and requirements. We wanted to share our findings so you can see what schools are doing across the nation!
Pubic High School Service Tracking Trends
Many of our public schools do not require service, but that doesn't mean that they don't recognize and encourage it. Although some of our public schools set up yearly goals, most set up a simple four-year goal that extends throughout their students' entire high school career. The amount of service hours may range from 50 to 100 hours for that four-year time frame, although most public schools will have a 100-hour goal on average. In many cases, multiple goals are created. For example, a school may have a 100-hour goal, another goal of 250 hours that may earn them a service cord at graduation, and a presidential award of say, 350 hours - which all share hours. In other words, any service performed for the 100-hour goal also counts for the service cord goal and the presidential award.
Another trend we see in public high school service tracking is the creation of goals for clubs such as the National Honor Society, which normally have around 25 hours required on a yearly basis. The school administrators create a separate group for those students and create a 25 hour goal for them. In x2VOL, this would be considered a "Courses/Clubs" group, which is not mandatory, and the NHS students would be part of this group in addition to their Mandatory group (ie. Class of 2019). Other group examples are Student Council, Key Club, and Theology, Spanish/French Honor Society.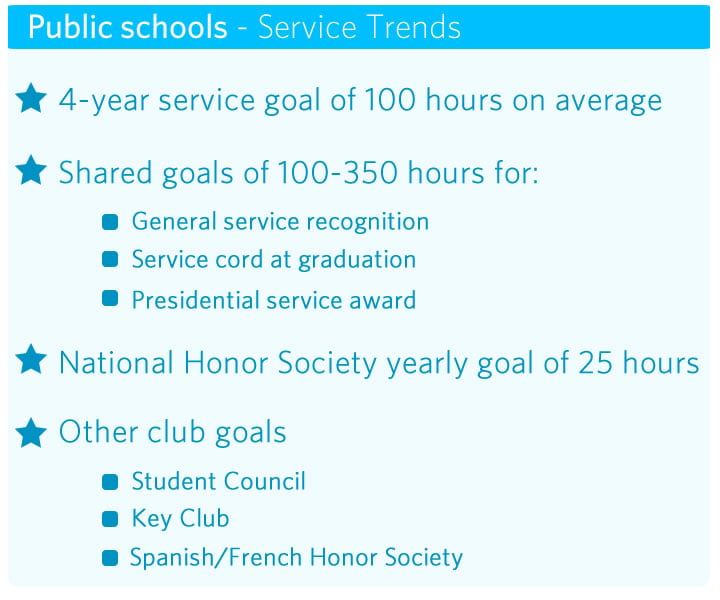 Private High School Service Tracking Trends
Service requirements are fairly common in private schools and these hours are normally tracked by the school on a yearly basis instead of a 4-year period. This encourages the student to engage in service on a more consistent basis, rather than just waiting until their junior or senior year to be proactive about service. For Freshmen - we see our schools requiring anywhere from 10 to 25 hours. Sophomore yearly requirements can range from 15 to 40 hours. Juniors are expected to do anywhere from 25-60 hours, and Seniors perform about 30 to 75 hours. An increasing requirement per year is very typical as school administrators ease their upperclassmen into a stronger focus on service.
In addition to yearly goals, we do see a significant number of schools requiring students to distinguish between different types of service. A common example is direct service versus indirect service. Direct service is a person-to-person experience, whereas indirect service activities impact the community as a whole through an organization. In x2VOL, school administrators create two distinct goals (direct and indirect) and set requirements for each so that a student is expected to engage in both types of service. These goals are called "exclusive" goals because they do not share hours. In other words, these goals are not double-dipped with any other goals at the school.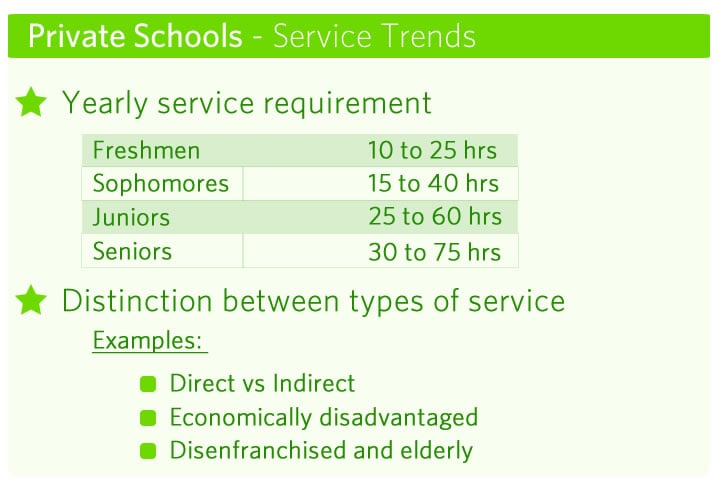 At intelliVOL, we've created a platform that can handle a vast majority of service structures and we continue to see innovative service learning programs in schools across the country. If you have a unique service structure at your school, please share it with us in the comments below!