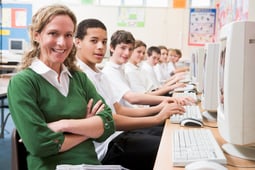 An effective service-learning program can help students learn important Christian values. But service-learning programs often have many aspects to manage, making them challenging to oversee.
In working with hundreds of private and public schools nationwide, we have learned many things about what makes a service-learning program a success. Here are seven key recommendations based on our experience.
1. Match your program to the school's mission.
Use community service as an opportunity to build discipleship. "As each has received a gift, use it to serve one another, as good stewards of God's varied grace" (Peter 4:10-11). Encourage students to think of others by including service requirements as a core component of your curriculum.
2. Involve outside community organizations.
Extend opportunities for service beyond campus, as well. Some schools confine their service programs within the school grounds because it's more convenient for students, but that misses an important opportunity to broaden students' personal growth.
It is easier for students to become self-motivated for service when there are many choices available to them, such as volunteering in a neighborhood soup kitchen or for a local book drive. What's more, students develop a deeper connection to their community, while understanding the community's needs and their role within it.
3. Establish clear guidelines.
Be specific about the goals you set and how students can achieve them. For instance, ask students to volunteer for a certain number of hours in a semester or year. Specify that their service must include two or more organizations, or no more than 10 hours for any one organization.
Make the guidelines attainable, and make sure they match the culture and mission of your school. Also, make sure there are enough opportunities from outside organizations to help students meet their goals.
In addition, consider whether you will allow service only for organizations and/or events that have been pre-selected and approved, or whether you will allow service opportunities that students find themselves.
The latter policy can be a smart way to inspire student ownership by encouraging students to seek out opportunities to serve on their own, but it requires more management on the part of program administrators.
4. Specify an approval process.
How will students report their service, and who will be responsible for collecting this information and signing off on students' service hours? Will you require confirmation from the organization that benefitted from the service? Establish clear policies governing reporting and approval.
Make sure students understand these requirements, and require them to report on their service within 24 to 48 hours, while the activity is still fresh in their mind.
5. Use a digital tracking system.
Managing a service-learning program can be an onerous process without an electronic means to track and report service hours.
Much like the electronic work logs that employees use, online platforms simplify the tracking and approval process for service-learning programs. With these systems, the entire process is paperless and automated.
Students record the hours they have volunteered, as well as reflections on their efforts. Administrators can review data, approve hours, track progress toward goals, analyze trends, and produce reports—and nonprofit organizations can verify students' service online.
These platforms can include a mobile app that makes it convenient for students to report their service hours as soon as they are done.
At JSerra Catholic High School in California, administrators noticed that procrastination declined—and service hours rose—when the school adopted this type of platform. When students had an easier way to report on their service, the number of hours they gave to local charities increased.
And when program management is simplified with a digital record-keeping system, service directors can focus on leadership. They have more time to talk about the importance of service and how it fits in with Christian values, thus inspiring students to do more.
6. Require reflection.
At the heart of service learning is the transformation that students experience when giving of themselves to another individual or group. Reflection is a critical step in this transformation, and effective service-learning programs build this into their requirements.
"It is important for our students not only to record their service hours, but also to reflect on their work," said Curtis Tupper, dean of students at The Dunham School, a Christian school in Baton Rouge, Louisiana. "They begin to think beyond this service as simply a requirement for graduation and more as a positive way to impact their community. For example, when a student works at a food bank, we want to know what kind of effect it has on that student, and the people working around that student. Our goal is to have students thinking beyond self."
With a digital platform, the mechanism for reflecting is embedded in the system. Students write their reflections on their service when they record their service hours.
If you're not using a digital system, require students to write their reflections directly on the form that is submitted for approval by the administrator. Separate papers tend to get lost, and students might not remember what they have written.
7. Incentivize participation.
Think of ways to motivate students and encourage them to participate. We want students to exceed their goals and to seek out service opportunities on their own, without being told to do so.
Giving students an easy way to track their own service hours is one way to do this, as they will develop a sense of pride in their accomplishments. Praise and encouragement also are powerful motivators, and online platforms include a way to send automated messages to students, so you can recognize their efforts.
At Ursuline Academy of Dallas, administrators are using data to motivate and reward students.
"Our goal is to start recognizing students for meeting service goals," said Maria Redford, director of campus ministry. "With this system, we can develop an incentive program because we have a reliable, up-to-date system for tracking service hours."
Michele Pitman is CEO of intelliVOL, developers of x2VOL, which is an online management system used by public and private schools to track, report and verify student community service hours.