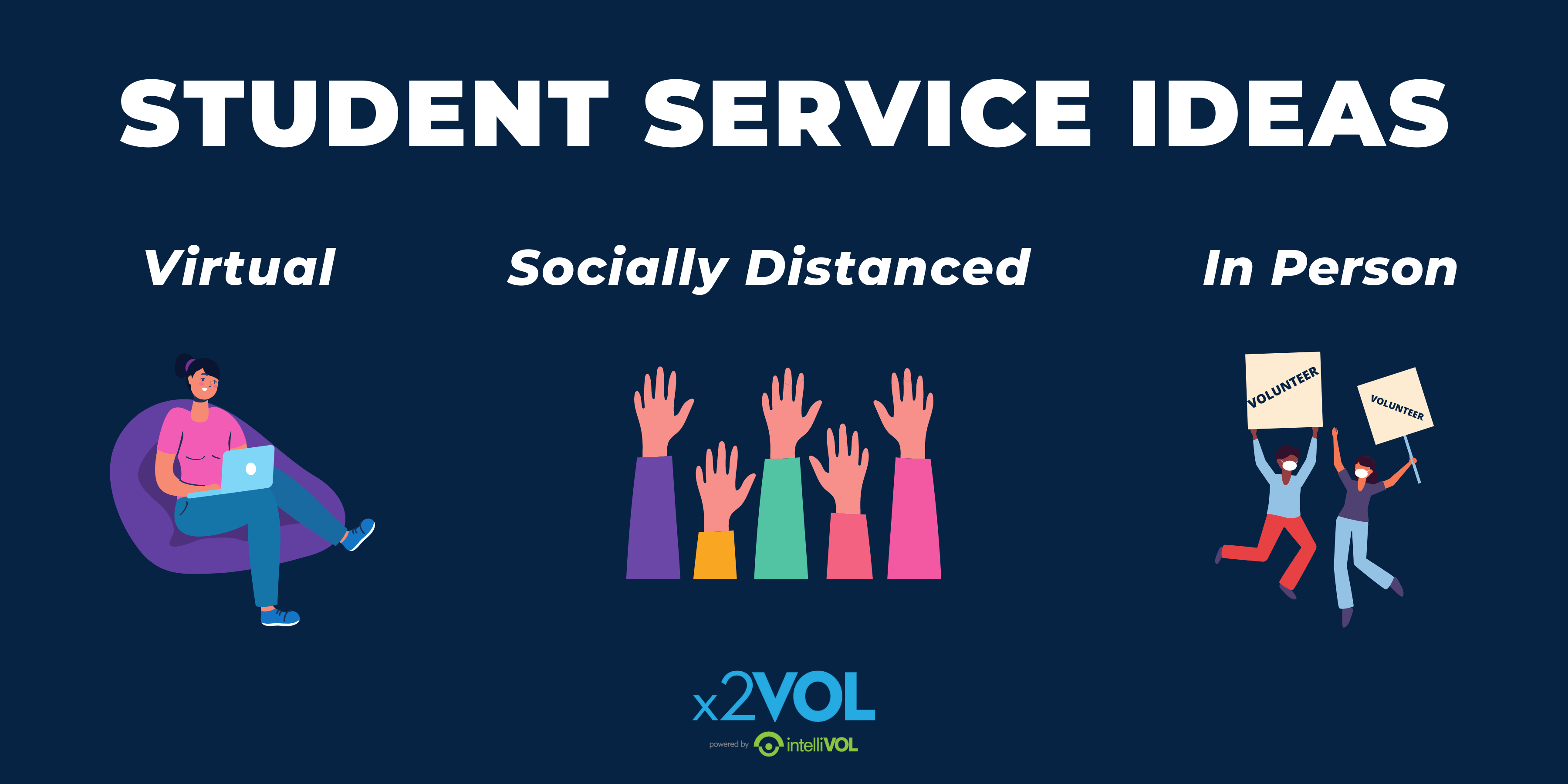 Are your students on the hunt for service ideas? We've got you covered. Whether your students are doing in person, socially distanced, or virtual service experiences this semester, there are so many opportunities for your students to get involved and make a difference in their communities.
Through these service experiences, students have the opportunity to reflect on their impact, grow as individuals, and heal emotionally from the changes they've experienced over the past year.
In-Person Service Ideas
Partner with a local nonprofit - Encourage students to connect with a local nonprofit that works with a community or subject they are passionate about. Work with the nonprofit for a semester in order to build relationships. This allows students to really understand and meet the needs of an organization and see their impact over time.
Volunteer at a nursing home - Working with the elderly community benefits the students and the elderly. Those in a nursing home or care facility are able to have that connection and students are able to gain wisdom, knowledge, and perspective from those that have lived more life than them.
Community Center/Homeless Shelter

- Whether students are working with an after-school program or supporting a homeless shelter, they can engage with different groups of people from different walks of life. Through this type of engagement, they can widen their worldview and build stronger communities that are inclusive of others.
Socially Distanced Service Ideas
Serve outdoors in your community - Serving outdoors is the perfect opportunity for students interested in environmentalism. Students can connect things they are learning in biology, chemistry, and environmental sciences to real-life scenarios and make a positive impact on the ecosystems in their own community.
Volunteer at an animal shelter - Sometimes working at an animal shelter involves petting puppies but it can also mean cleaning up cat litter boxes. Volunteering in this way gives students an opportunity to serve in ways that might be fun and ways that might be a little less pleasant - however, these opportunities teach students responsibility and the importance of hard work.
Food banks -

Stocking and organizing local food banks is a great way to make a big impact in the community. Students can engage with every step of the process: set up a food drive, coordinate donating to the local food bank, and help organize donations at the food bank.
Virtual Service Ideas
Zoom tutoring - Whether a student is skilled at math, science, English, history, etc., they can use their skills to tutor younger students. Students can connect their studies and apply them to tutoring sessions.
Write letters of encouragement - There's still a lot going on in the world and writing letters of encouragement is a great way for students to put themselves in someone else's shoes and extend sympathy and comfort to members of the military, first responders, the elderly, or individuals in the hospital.
Host online webinars or share videos with performances, storytelling, fitness, and more - this encourages students to use their skills, interests, and passions to benefit others.
BONUS RESOURCE: Virtual Service Project Ideas + How to Instructions for Your Students
What to do when students finish serving...
Whether they serve at home, at a distance, or in person, there is deep reflection and growth to be had from service. As students heal from the intensity of learning from home for a year and moving through a worldwide pandemic, service is an excellent way for students to connect with and engage with each other and their communities.
x2VOL makes it easy for students to engage in development and personal growth. After they're done serving, students are encouraged to write reflections that are attached to their service entry. Administrators also have the ability to customize the reflection prompt for students to ensure students are growing from their experiences.
Ready to learn how x2VOL can support your students through service? Check out our demo below, share your information, and our team will reach out to you.
To continue to support you and your students during this time we've compiled a variety of materials and helpful content on our COVID-19 resource page. Check out the e-guides, blog posts, service ideas, videos, and more available today!